truestar inc.  point  everyday
Summary
This dataset includes the daily meteorological data edited by truestar based on the long-term historical meteorological data provided by Japan Meteorological Agency.
Sample Data
Features/Usages
We provide the daily meteorological data such as air temperatures, rainfall amount, wind speeds and sunlight hours observed by Japan Meteorological Agency from January 1st,2016 up to the two days before. We removed text data included in numeric columns and cleansed the original data. Additionally, we added latitude, longitude, and the prefecture information of observatories. You can analyze the data immediately and easily.
Data Fields
BLOCK_CODE
OBSERVATORY_NAME
OBSERVATORY_TYPE
OBSERVATION_DATA
PREF_CODE
PREF_NAME
PREF_CODE_NAME
JMA_AREA_CODE
JMA_AREA_NAME
LATITUDE
LONGITUDE
DATE
AIR_PRESSURE
AIR_PRESSURE_SEA_LEVEL
AIR_PRESSURE_SEA_LEVEL_MIN
AIR_PRESSURE_SEA_LEVEL_MIN_TIME
RAINFALL
RAINFALL_MAX_1H
RAINFALL_MAX_1H_TIME
RAINFALL_MAX_10MIN
RAINFALL_MAX_10MIN_TIME
AIR_TEMPERATURE
AIR_TEMPERATURE_MAX
AIR_TEMPERATURE_MAX_TIME
AIR_TEMPERATURE_MIN
AIR_TEMPERATURE_MIN_TIME
VAPOR_PRESSURE
HUMIDITY
HUMIDITY_MIN
HUMIDITY_MIN_TIME
WIND_SPEED
WIND_SPEED_MAX
WIND_SPEED_MAX_DIRECTION
WIND_SPEED_MAX_TIME
WIND_SPEED_INSTANTANEOUS_MAX
WIND_SPEED_INSTANTANEOUS_MAX_DIRECTION
WIND_SPEED_INSTANTANEOUS_MAX_TIME
WIND_DIRECTION_MAX
SUNLIGHT_HOURS
GLOBAL_SOLAR_RADIATION
SNOWFALL
SNOWFALL_DEEPEST
SNOWFALL_DEEPEST_TIME
CLOUDAGE
WEATHER_DAYTIME
WEATHER_NIGHTTIME
POINT_OBSERVATORY
References
Special Notes
■ When visualization in Tableau
This dataset includes point data "POINT_OBSERVATORY". Since there are many records, it might take a lot of times to visualize with mapping.
measure➀
You can create a mapping speedily by making the point data from latitude/longitude information on Tableau.  
You can use "makepoint([LATITUDE], [LONGITUDE])" function at calculated field.
measure➁
You can create a mapping speedily by extracting data at Snowflake on Tableau. In this case, you should update the extracted file suitably.
■ About each statistiics
Numerical data="0″ includes the data under 0.5.   
"Null" does not mean "0", but it means that it was excluded from the observation or could not be observed.
■About mismatching between daily data and monthly data 
Since monthly data does not include the data, which is not sufficient due to changes of the observatory locations or changes of machines, some daily data totalized in a month don't match the monthly data.
The diagram below is the data of Shinkyohama observatory in 2016.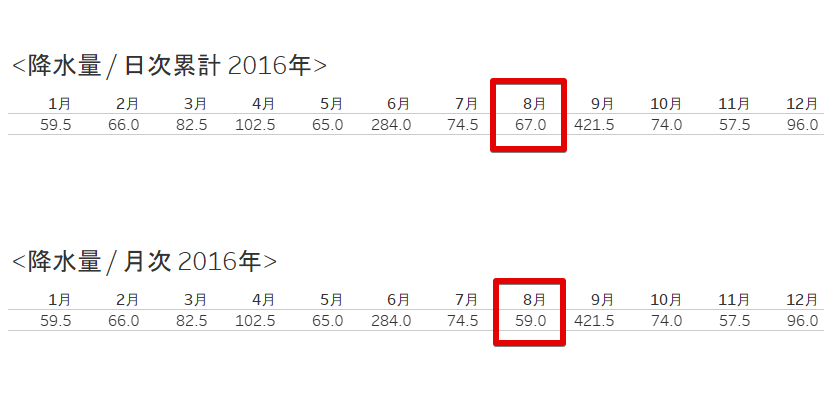 Update History
2022/1/28 : Rename JMA_METEOROLOGICAL_DATA_DAILY to JMA_METEOROLOGICAL_DAILY